Going back to February 24th, the Warriors have lost 6 in a row to essentially kill their already bleak shot at finally, after 12 (it'll now be a cool 13) years, making the playoffs. They went from 26-29, which isn't good, to 26-35, which is decidedly bad, and puts us back in that back of the lottery position we're so familiar with. What's disheartening isn't that we're going to pick 10th or 11th or some nonsense again this year and miss out on a talent that could actually change things, what's disheartening isn't that we're stuck in perpetual mediocrity and need to go 15-6 the rest of the way just to hit .500, it's not that the six losses run down like this:
By 13 to Clippers
By 17 to Lakers
By 21 to Bucks
By 30 to Bulls
By 9 to Knicks
By 1 to Wizards
Hell, it's not even that we should've won today only to have the refs hand Gilbert Arenas a foul at the end, and then Don Nelson losing his shit and drawing a T so that he could conveniently hit 3 free throws to win the game.
too much don, too much
I'm completely shitting you. That, all wrapped up into a tidy package, is exactly what's disheartening. It's hard to actually even analyze what's wrong with this team, because I could probably write a book about it. We rely on Al Harrington to lead the team, who, in his defense, I still think is a useful player, but not your number one fucking option. Richardson has lost a ton since his injury. Baron Davis is never, ever, ever healthy. Monta Ellis and Andris Biedrins are promising and I love them, but they both still have big flaws in their game before they become the kind of talents that a playoff team can be centered around. It's like every single player on this team has a PER between 13-16. I'm no expert on the inner workings of PER, but apparently that makes for a really really mediocre ballclub.
There's 21 games left, and if we go 8-13 (pretty likely, right?) we'll finish....34-48. Again. For the third year in a row. And pick 9th. And pick a crappy center, like Aaron Gray (no offense Will) or something. And then we'll win 34 games again next year. And we're completely, miserably, hopelessly stuck in this awful, God-forsaken cycle. Whatta disaster of a franchise.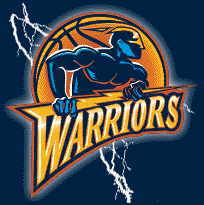 golden stink
-I've gotten out of my posting funk and will be doing A's spring training stuff, taking a look at the recent rash of 49ers moves, discussing the NCAA tournament, making NBDL posts, and the like.