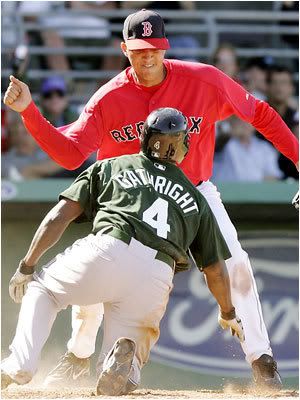 As you may or may not have already heard,
Julian Tavarez is taking over as the fifth starter for the Sox
in the wake of Jon Papelbon's return to the closer position and Jon Lester's recovery from lymphoma. Tavarez made six starts for Boston last year, recording a respectable 4.01 ERA in that span, and even pitching a complete game. But is Tavarez really the solution at this point in time?
I say no. Tavarez has been exclusively used in middle relief this spring. Papelbon's return to the bullpen was something that was likely talked about for the duration of spring training until the announcement was made official. In light of that, wouldn't you want to prepare a backup plan? Wouldn't you want to get the players involved in these circumstances ready for this?
Tavarez has been in rotations before, recording mediocre and bad stints with the '01 Cubs (10-9, 4.52 ERA in 28 starts) and the '02 Marlins (10-12, 5.39 ERA in 27 starts). Supporters of the move will be quick to point to this. Tavarez's numbers were decent in his time as a starter last year, but Tavarez has started exactly zero games in spring training. Other pitchers in the system
were
making starts in Fort Myers, and were doing well enough to get consideration for the spot.
Kyle Snyder's push for the spot was likely rejected because of his not-so-stellar history in the Majors. Snyder's spring numbers were impressive (0-0, 2.89 ERA) in 3 starts and 5 appearances overall. But a simple glance at his career line (6-14, 5.94 ERA) tells a much different story. Snyder's past struggles rule him out completely. I would probably have more of a problem with Snyder getting the job than Tavarez.
The only other real candidate for this job was Kason Gabbard. Gabbard seemed like the real go-to guy in this situation. He racked up some solid numbers both in his stint with the club in 2006 (25.1 IP, 1-3, 3.51 ERA in four starts and seven appearances total) and in spring training (4 GS, 1-1, 10 IP, 2.70 ERA, 0.9 WHIP). If Gabbard had never reached Fenway before, I could understand the decision. But Gabbard proved that if he can get run support, he can win. Why not give the kid a shot?
I understand that the move is almost completely based on Tavarez's successful stint last August and September.
But look at his innings pitched in those starts.
Just twice did he make it out of the sixth. If Tavarez can't pitch for more than 5-6 innings every time out, it's going to take a toll on the bullpen. In that case, Boston may as well just start Papelbon until Lester comes back. Papelbon trained in the off-season the same way Derek Lowe did in 2002- strengthening his arm and shoulder so he would have the endurance to go out there every five days. Lowe was almost immediately ready to go out and pitch long innings every five days, and Papelbon could've definitely done the same.
Personally, I have no problem with the decision to bring paps back as the closer. Shoulder issues at the end of last year indicate that he would probably have trouble lasting a full year in the starter role. Joel Pineiro's lack of experience does not bode well either. But to bring in someone else who is unproven just doesn't seem like the right call. If the Sox expect to ever get anything out of Gabbard, this is the perfect opportunity to let him show his stuff. Unfortunately, he won't even get a chance. Hopefully I'm wrong and Julian goes out and gets a quality start (or better) every time he's on the mound. I just don't see it happening.