Yeah, it's back. Since I last did one of these the D League has lost quite a bit of talent. Renaldo Major (Warriors), Luke Jackson (Clippers), Dijon Thompson (Hawks), Justin Williams (Kings), Andre Brown (Supersonics), and Kelenna Azubuike (Warriors) have all been called up in the past couple of weeks. Just a quick glance at how these cats are fairing in the Association:
Major: 27 minutes in his first game with the Warriors last night. Helped quite a bit towards the losing effort, shooting just 20% with a measely 5 points, 2 rebounds, and 2 steals. Also committed four fouls and a turnover.
Jackson: 3 games, 5 minutes per game, 1 point per game. Not much worth noting here.
Thompson: Fun with sample size: 21.63 PER in 3 games. Expect that continue.
Williams: Essentially a carbon copy of Jackson's line.
Brown: Has gotten into 5 games clocking 8 1/2 minutes per. Shooting 64% in that limited time producing more fun with sample size in the form of his 24.84(!) PER. Again, fully expect that to continue.
Azubuike: The most successful of any of the D League callups. Getting 25 minutes a game so far on a depleted Warriors squad. Shooting 51.9%(!) from three point land resulting in a kinda legitimate 18.81 PER. I like this dude a lot. That being said, he does have a -3.1 Roland Rating on 82games, pitting him right with Jason Richardson, who has in fact played rather poorly this season, so he may not be all that great. Still, I do like this player quite a bit. I think he has staying power in this league.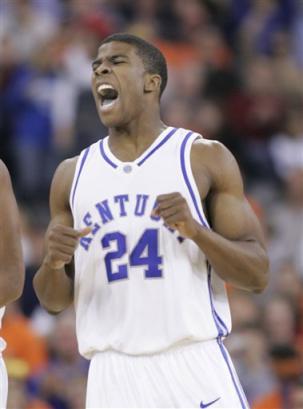 I just like this picture. Dude's so excited and all.
Anyway there aren't any games today, so I'm going to give a short little snyopsis of each team instead and return to recaps/etc. tomorrow.
EASTERN DIVISION:
Dakota Wizards (14-4): Just lost Major (although with the recent Pacers trade he should be back in no time) but continues to succeed on the shoulders of forward James Maye (16.8 PPG, 48.9% FG, 44.73P%) and Quemont Greer (16.5). Also of note is that they picked up (Too Much) Rod Benson, who had been previously waived by Austin. Jonny rejoices.
Fort Worth Flyers (12-5): Employ Pops Mensah Bonsu (13.1 PPG, 10.8 RPG) and former Bull Luke Schenscher (10.6, 7.2). Getting great production also from former Delta State (wheeeeere?) product Jeremy Richardson. I've never heard of this guy before, but he's scoring 18.7 per game with 41% three point shooting and 88% free throw shooting.
Sioux Falls Skyforce (13-8): A number of scorers on this team, including former Knick Frank Williams (14.7), 2005 Detroit second rounder Amir Johnson (16.2), Vincent Grier (18.9), Jared Reiner (12.9), and Corey Williams (14.0). Not surprisingly, bad defense (100.3 points allowed per game) has been their undoing.
Tulsa 66ers (10-12): Sonic second rounder Denham Brown is averaging just over 20 per game (47.1% shooting). Cezary Trybanski, whose name you might recognize if you follow basketball too closely, isn't making much of an impact for this team. George Washington product Mike Hall and his near double double average (16.3 PPG, 9.7 RPG) are, however.
Arkansas RimRockers (6-14): Former Stanford star Matt Haryasz is playing reasonably well, averaging roughly 10 points, 7 rebounds, and a block per game. Guard Clay Tucker out of Wisconsin-Milwaukee is averaging 18.2 points, but is probably more problem than solution with his 39.2 shooting percentage.
Austin Toros (4-16): This team has names (Troy Bell, former leaguer Loren Woods, former college stars Kris Klack and BJ Elder) but not much in the way of results. Bell was picked up after being waived by Albuquerque and has averaged 18.4 PPG on 44% shooting since. Jay Williams also had a stint with this team earlier.
WESTERN DIVISION:
Colorado 14ers (14-6): Expansion Draft #1 overall pick Elton Brown is .2 rebounds away from a double double average while one of my personal favorites Pooh Jeter is averaging 14.8 points on 48% shooting and 90.5% free throw shooting. Rick Rickert is averaging 13 and 7, while former Laker pick Von Wafer has emerged as one of the D League's best scorers, at 20.4 PPG (48.6% shooting.)
Idaho Stampede (14-7): Perhaps the most NBA-rific team in the D League, with 2 guys who have spent a considerable amount of time in the league (Eddie Robinson and Randy Livingston) and one second round pick (Peter John Ramos). Robinson's shooting 51.2% from the field and 92% from the free throw line, Livingston has 9.5 assists per game (though is shooting 35%) and Ramos has 13.5 points and almost 1.5 blocks per game.
Los Angeles D-Fenders (10-10): Feature a player named Butter Johnson. Coached by Chucky Brown. Not too interesting a team. Led by Devin green with 19.3 points per game.
Albuquerque Thunderbirds (8-12): Led by my favorite player in the D-League, former Cal standout Joe Shipp (15.4 PPG). Also the unforunate losers of Dijon Thompson, who had been third in the league in scoring.
Anaheim Arsenal (9-14): Are noteable pretty much because they employ Ha Seung Jin.
ha seung luvs the kids
Bakersfield Jam (7-14): If you pointed a gun to my head and asked me to pick a favorite team, this'd be it I suppose. They're the affiliate of my Warriors and kindly relieved us of Patrick O'Bryant for a few games. Interestingly enough, coached by Jim Harrick, which probably doesn't spell well for many of these players. Lotsa names on this squad though, as you might remember the likes of Tamar Slay, Yuta Tabuse, former draft pick Brandon Bowman, or former college stars Tony Bobbitt and Gerry McNamara. McNamara, the most notable name of the bunch, is averagine 13.8 ppg but not shooting particularly well (41%).
Anyway, you're likely weary of NBDL by now. I'm weary. Come back for a shorter NBDL-related post tomorrow.